The Role of Technology in Residential Cleaning: Smart Home Devices
Introduction: Technology has revolutionized various aspects of our lives, including the way we clean and maintain our homes. With the advent of smart home devices, residential cleaning has become more efficient, convenient, and even enjoyable. In this blog post, we will explore the role of technology in residential cleaning, focusing specifically on smart home devices that automate and enhance the cleaning process. From robotic vacuums to connected appliances, these innovative gadgets have transformed the way we keep our homes clean and tidy.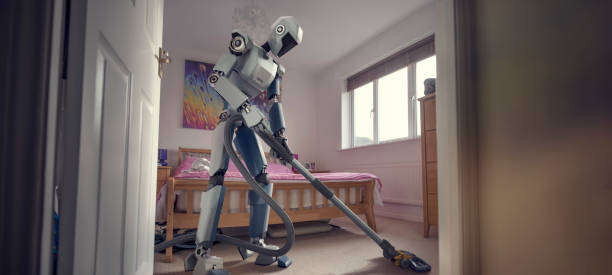 The Rise of Robotic Vacuums: Robotic vacuums have quickly gained popularity in residential cleaning. These autonomous devices navigate through your home, vacuuming carpets and floors with minimal human intervention. Equipped with sensors and mapping technology, they can detect obstacles, avoid stairs, and efficiently clean every corner of the room. With scheduling features, you can set them to clean at specific times, ensuring a constantly tidy living space.
Smart Mops for Effortless Floor Cleaning: In addition to robotic vacuums, smart mops have also emerged as a convenient tool for floor cleaning. These devices use advanced technology to mop and scrub hard surfaces, such as tile and hardwood floors. With features like programmable cleaning patterns and adjustable water flow, smart mops can adapt to different floor types and deliver a thorough cleaning experience. Some models even offer compatibility with voice assistants, allowing you to control them with simple voice commands.
Connected Appliances for Streamlined Cleaning: Smart home technology has extended its reach beyond standalone cleaning devices to include connected appliances that streamline the cleaning process. For example, smart washing machines with built-in sensors can automatically adjust water levels and detergent usage based on the load size, saving water and energy. Similarly, smart dishwashers offer features like customized cleaning cycles and remote control through smartphone apps, making dishwashing more efficient and hassle-free.
Voice-Activated Assistants for Hands-Free Control: Virtual voice-activated assistants, such as Amazon Alexa or Google Assistant, have become integral parts of many households. These smart speakers can be utilized for hands-free control of various cleaning tasks. With simple voice commands, you can instruct your smart home devices to start cleaning, adjust settings, or even order cleaning supplies. This seamless integration between voice assistants and smart cleaning devices adds convenience and efficiency to your cleaning routine.
Smart Sensors for Monitoring and Maintenance: Smart home devices are equipped with sensors that go beyond the cleaning process itself. For example, air quality sensors can monitor indoor air pollution levels and prompt you to take actions, such as turning on an air purifier. Smart thermostats can optimize energy usage and maintain a comfortable living environment. By incorporating these sensors into your home, you can create a cleaner, healthier, and more sustainable living space.
Mobile Apps for Remote Control and Monitoring: Mobile apps associated with smart home devices have become invaluable tools for remote control and monitoring. Whether it's adjusting cleaning schedules, monitoring the progress of your robotic vacuum, or receiving notifications when cleaning is complete, these apps provide a level of convenience and control that was previously unimaginable. You can manage your cleaning tasks from anywhere, ensuring a clean home even when you're away.
Data and Insights for Personalized Cleaning: Smart home devices generate data and insights that can enhance your cleaning routine. For example, robotic vacuums equipped with mapping technology can create visual maps of your home, allowing you to track where they've cleaned and where they might have missed. This data-driven approach enables you to personalize your cleaning routine, focusing on specific areas or adjusting settings based on your needs.
Conclusion:
Smart home devices have revolutionized residential cleaning by automating and enhancing the cleaning process. From robotic vacuums and smart mops to connected appliances and voice-activated assistants, these technological advancements have made cleaning more efficient, convenient, and personalized. By embracing these smart home devices, you can save time and effort while maintaining a clean and healthy living environment. As technology continues to evolve, we can expect even more innovative solutions to further enhance the role of technology in residential cleaning.